Wetzlar, Germany - January 9th 2014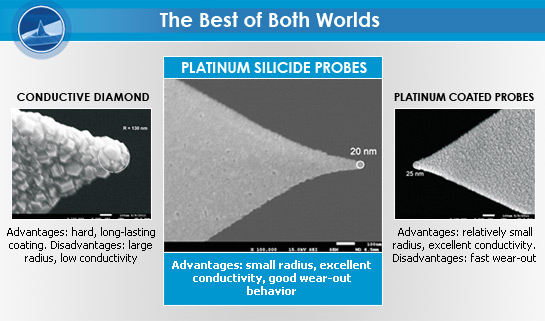 NanoAndMore GmbH announced that now all three types of the new innovative NANOSENSORS™ SPM probes series of wear resistant and highly conductive PlatinumSilicide AFM Probes are available.
The new AFM probes feature the best of both worlds of the most commonly used conductive probes for Atomic Force Microscopy (AFM): metal coated probes and probes with conductive diamond coating.
The newly developed AFM tips are made of highly conductive platinum silicide which unites high conductivity (higher than conductive diamond coating and as good as metal coated tips) with a high wear resistance (much higher than metal coated probes and almost as good as diamond coated probes). Additionally the new PtSi probes have a slightly decreased tip radius compared to standard metal coated AFM probes. They can be used for any kind of electric or electrostatic AFM measurement, except SSRM.
The Platinum Silicide AFM probes can be used for:
TUNA, Tunneling AFM
SCM, Scanning Capacitance AFM
C-AFM, Conductive AFM
EFM, Electrostatic Force Measurements
KPFM, Kelvin Probe Force Measurements
Three types
PtSi-NCH
(for non-contact mode) ,
PtSi-FM
(for force modulation mode) and
PtSi-CONT
(for contact mode) are now commercially available.
Further types such as AFM probes for specialized applications like SSRM are under development.