Lady's Island, SC - February 9th 2015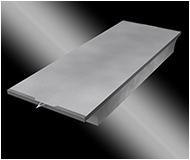 NanoAndMore USA announced today that NanoWorld is now offering an AFM tip that is compatible with the Bruker ScanAsyst® mode in air.
The NanoWorld Pyrex-Nitride PNP-TRS AFM probes are designed for various imaging applications in contact or dynamic mode and can also be used for ScanAsyst®** mode in air.
The Pyrex-Nitride TRS probes have a single silicon nitride cantilever with a very low force constant and an integrated oxide sharpened, pyramidal tip with a height of 3.5 µm. The tip is located 4 µm behind the free end of the cantilever. The probe series features a support chip that is made of Pyrex. The cantilever is stress compensated and has a gold backside coating for high laser reflectance.
All chips are pre-separated prior to shipment and come in Gel-Pak containers.
The typical tip radius of curvature is below 10 nm. The cantilever bending is below 2°.
For more information please also have a look at:
http://www.nanoandmore.com/USA/AFM-Probe-PNP-TRS.html
** ScanAsyst® is a registered trademark of Bruker Corporation