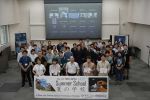 2022年8月22日~27日に金沢大学ナノ生命科学研究所(WPI-NanoLSI) において第
㈱NanoAndMoreジャパンも本活動を支援させていただきました。
最終日には開催期間中の研究成果から、4名の研究者に対し奨励賞が授与され、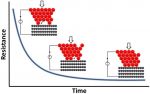 Study on contact aging and its effect on electrical resistance in Conductive AFM measurements with the help of our MikroMasch® HQ:NSC18/Pt AFM probes


Metrology Super Sharp (MSS): Heavy-Duty Carbon Tips for Very Narrow HAR Trenches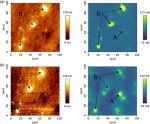 Our ElectriMulti75-G and ElectriTap300-G AFM probes perform measurements in KPFM mode to study corrosion at the buried interface of organic films and Al alloy.

Nanoscale Noncollinear Spin Textures in Thin Films of a D2d Heusler Compound
Magnetic nano-objects, namely antiskyrmions and Bloch skyrmions, have been found to coexist in single-crystalline lamellae formed from bulk crystals of inverse tetragonal Heusler compounds with D2d symmetry. * Skyrmions can be observed in real-space by various direct imaging techniques. * In the article "Nanoscale Noncollinear Spin Textures in Thin Films of a D2d Heusler Compound"
[…]






Happy birthday to Nobel Prize and Kavli Prize laureate Gerd Binnig, co-inventor of the Scanning Tunneling Microscope and the Atomic Force Microscope!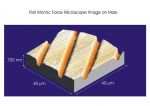 On this date 14 years ago, an atomic force microscope on NASA's Phoenix Mars Lander performed the first AFM measurement on Mars.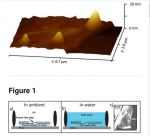 Small graphene sealed nanocavities have potential applications as pressure sensors. In this paper hydrogen nanobubbles are induced electrochemically at graphene-mica interfaces. MikroMasch HOPG ZYA is used as the graphene source and MikroMasch HQ:NSC36/Al BS AFM probes are used to study the bubbles.


V-Groove and Rectangular Single Crystal Diamond Diffraction Gratings Characterized by SEM and AFM




The behaviour of ions at solid–liquid interfaces underpins countless phenomena, from the conduction of nervous impulses to charge transfer in solar cells. In most cases, ions do not operate as isolated entities, but in conjunction with neighbouring ions and the surrounding solution. In aqueous solutions, recent studies suggest the existence of group dynamics through water-mediated clusters but results allowing direct tracking of ionic domains with atomic precision are scarce.
Read more...



Although catalysis is a popular explanation for tribopolymer generation, the interplay of catalysis, mechanochemistry, and electrostatic interactions remain incompletely understood. There is consensus, however, that the mechanisms for forming a frictional polymer in situ require at least three conditions: the presence of organics, a catalytically-active substrate, and shear between surfaces (i.e., sliding contacts).
Continue reading...


Friction force measurements with our diamond-like carbon coated ContDLC AFM probes reveal multiple symmetries for frictional anisotropy of atomic scale ripples in molybdenum disulfide



Studying MOCVD deposition of MoTe2 thin films on 8-inch SiO2/Si substrates



The ongoing coronavirus disease 2019 (COVID-19) pandemic caused by the severe acute respiratory syndrome coronavirus 2 (SARS-CoV-2) represents a serious threat to the health of millions of people. Respiratory viruses such as SARS-CoV-2 can be transmitted via airborne and fomite routes. The latter requires virion adsorption at abiotic surfaces and most likely involves the SARS-CoV-2 spike protein subunit 1 (S1), which is the outermost point of its envelope. Understanding S1 spike protein interaction with fomite surfaces thus represents an important milestone on the road to fighting the spread of COVID-19.*
In the article "Adsorption of SARS-CoV-2 Spike Protein S1 at Oxide Surfaces Studied by High-Speed Atomic Force Microscopy " Yang Xin, Guido Grundmeier and Adrian Keller describe how high-speed atomic force microscopy (HS-AFM) is used to monitor the adsorption of the SARS-CoV-2 spike protein S1 at Al2O3(0001) and TiO2(100) surfaces in situ. *
NanoWorld Ultra-Short Cantilevers of the USC-F0.3-k0.3 AFM probe type were used for the high-speed atomic force microscopy. *