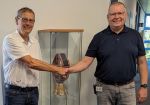 We are pleased to announce that on September 1st 2023 Mr. Peter Besmens has joined NanoAndMore GmbH as the new CEO.
Mr. Peer Burshille, founder and former CEO will remain in a consulting position with NanoAndMore GmbH to support the transition. From the 1st of January 2024 Mr. Burshille will start his well-deserved retirement after more than 20 years with NanoAndMore GmbH.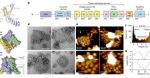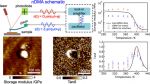 Mechanical dynamics of nanoscale interfaces in epoxy nanocomposites over a broad range of temperatures is studied with novel Nanorheology AFM, a.k.a. nanoscale dynamic mechanical analysis (nDMA) and our soft tapping mode AFM probes Multi75Al-G.

"Our nDMA results also show good agreement with those measured by other well-accepted AFM methods at the nanoscale as well as macroDMA over a broad temperature range, which might initiate a new paradigm for characterizing nanoscale dynamic mechanical responses for various structural nanocomposites."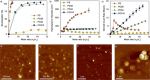 "Heparin is one of the most important naturally derived anticoagulant agents. Its medicinal role originates from the ability to bind coagulant factors and inhibit the blood-clotting cascade… However, in clinical practice, it is of vital importance to reverse its anticoagulant effect to restore the blood-clotting cascade and circumvent side effects. Inspired by protein cages that can encapsulate and protect their cargo from surroundings, we utilize three designed protein copolymers to sequester heparin into inert nanoparticles."
AFM imaging is performed in light tapping mode with MikroMasch HQ:NSC18/Al BS AFM probes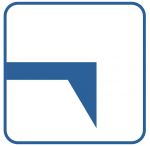 Finally, available outside of Japan - original and unaltered Olympus*** AFM probes, packaged and labeled by Olympus*** in Japan! THE REAL DEAL!
Olympus*** have discontinued all their Olympus*** Micro Cantilever AFM probes, meaning that Olympus*** announced in September 2022 that no further production of Olympus*** AFM probes is taking place.
Olympus*** Corporation have remaining stock of some of the popular Olympus*** Micro Cantilever AFM probe models and they have entrusted NanoAndMore Japan as partners with the resale and distribution of the remaining stock of original Olympus*** AFM Probes to customers. Supply as long as stock lasts!
Important to know:
The Olympus*** AFM probes sold by NanoAndMore are the REAL and ORIGINAL, unopened Olympus*** Micro Cantilever AFM probes boxes, originating directly from Japan – THE REAL DEAL!
The Olympus*** AFM probes sold by NanoAndMore have neither been repacked, nor relabeled, nor post processed, nor altered in any way – they are THE REAL DEAL!
Supply as long as stock lasts.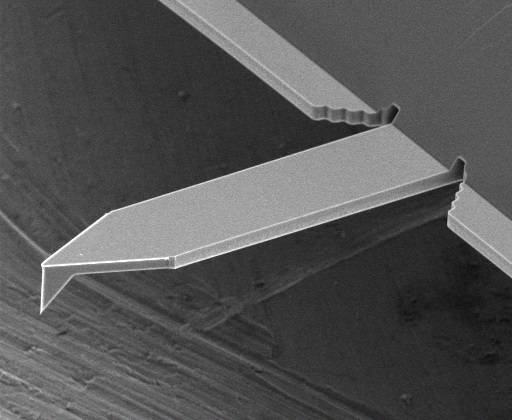 NEW: Original and unaltered Olympus AFM probes offered by NanoAndMore.com

Two-dimensional (2D) transition metal dichalcogenides (TMDCs) have layered structures with excellent tribological properties. *
Since the energy difference between hexagonal-molybdenum ditelluride (2H-MoTe2) and distorted octahedral-molybdenum ditelluride (1T'-MoTe2) is very small among the transition metal dichalcogenides (TMDCs), MoTe2 becomes one of the most promising candidates for phase engineering. *
In the article "Comparative analysis of frictional behavior and mechanism of molybdenum ditelluride with different structures" Lina Zhang, Xinfeng Tan, Jianguo Jiao, Dan Guo and Jianbin Luo report that they found that the friction force and friction coefficient (COF) of 2H-MoTe2 were an order of magnitude smaller than those of 1T'-MoTe2 by the atomic force microscope (AFM) experiments. *
Read more...

In development, lineage segregation is coordinated in time and space. An important example is the mammalian inner cell mass, in which the primitive endoderm (PrE, founder of the yolk sac) physically segregates from the epiblast (EPI, founder of the fetus). While the molecular requirements have been well studied, the physical mechanisms determining spatial segregation between
[…]
#AFMカンチレバー
,
#AFMプローブ
,
#AFM探针
,
#ArrowTipless
,
#ArrowTL1
,
#ARROWTL1Au
,
#AtomicForceMicroscopy
,
#CellAdhesion
,
#CellBiology
,
#CellMechanics
,
#CellSorting
,
#CellSurfaceDynamics
,
#CellSurfaceMechanics
,
#Cytomechanics
,
#EmbryoDevelopment
,
#ForceSpectroscopy
,
#LineageSegregation
,
#Morphogenesis
,
#SCFS
,
#SingleCellForceSpectroscopy
,
#SingleCellForceSpectroscopySCFS
,
#TensionMeasurements
,
#TiplessCantilevers
,
#ティップレスAFMカンチレバー
,
#单细胞力谱
,
#単細胞力分光法
,
#用于探针修改的无针尖悬臂梁用于探针修改的无针尖悬臂梁
,
#細胞力学

Antimicrobial Peptide Mastoparan-AF Kills Multi-Antibiotic Resistant Escherichia coli O157:H7 via Multiple Membrane Disruption Patterns and Likely by Adopting 3–11 Amphipathic Helices to Favor Membrane Interaction
The emergence of multiple antibiotic-resistant bacteria, notably, pan-resistant Gram-negative pathogens, which are equipped with an outer membrane barrier of low permeability to antibiotics, has become an important challenge in recent decades following the overuse of antibiotics in humans and animals. * In particular, the foodborne enteric pathogen Escherichia coli O157:H7 has caused severe or deadly […]
#AFMProbes
,
#AFMカンチレバー
,
#AFMプローブ
,
#AFM探针
,
#AntibioticResistance
,
#AntimicrobialPeptide
,
#AtomicForceMicroscopy
,
#Bacteria
,
#Biology
,
#BiologyAFMProbes
,
#CellMembrane
,
#EscherichiaColiO157H7
,
#MastoparanAF
,
#MembraneDisruptionPattern
,
#MembranePermeabilization
,
#MembraneInteractingDiagnosticPeptides
,
#MembraneInteractingPeptidesInInfectiousDiseases
,
#MembraneInteractingTherapeuticPeptides
,
#Membranes
,
#NCSTR
,
#PointprobeNCSTR
,
#SoftTappingMode
,
#VespaAffinis
,
#原子力显微镜
,
#原子力显微镜探针


Polyethylene glycol (PEG) is a polyether compound commonly used in biological research and medicine because it is biologically inert. *
This simple polymer exists in variable chain lengths (and molecular weights). As they are devoid of any contiguous π-system, PEGs are expected to lack fluorescence properties. However, recent studies suggested the occurrence of fluorescence properties in non-traditional fluorophores like PEGs. *
In the article "Polyethylene Glycol 20k. Does It Fluoresce?" Bethany F. Laatsch, Michael Brandt, Brianna Finke, Carl J. Fossum, Miles J. Wackett, Harrison R. Lowater, Alex Narkiewicz-Jodko, Christine N. Le, Thao Yang, Elizabeth M. Glogowski, Scott C. Bailey-Hartsel, Sudeep Bhattacharyya and Sanchita Hati report a comprehensive investigation of the molecular basis of the fluorescent properties of PEG 20k molecules using combined experimental and computational methods. Fluorescence measurements of PEG 20k were conducted in aqueous solutions as well as in the presence of metal ions. *

Cross-sectional Kelvin probe force microscopy on III–V epitaxial multilayer stacks: challenges and perspectives
The development of photovoltaic (PV) technologies has progressed significantly over the past twenty years as a result of considerable advancements in solar cell device engineering and material science. * As a consequence, solar cells have turned into complex structures containing numerous layers and interfaces. The capability to conduct local investigations at the nanoscale level that […]
#AFMカンチレバー
,
#AFMプローブ
,
#AFM探针
,
#ArrowEFM
,
#ConductiveAFMTip
,
#FMKPFM
,
#FrequencyModulatedKelvinProbeForceMicroscopy
,
#FrequencyModulatedKPFM
,
#IIIVMultilayerStack
,
#KelvinProbeModelling
,
#KPModelling
,
#KPFM
,
#Photovoltaics
,
#SolarCells
,
#SPV
,
#SurfacePhotovoltage
,
#SurfacePhotovoltageSPV
,
#ケルビンプローブ力顕微鏡
,
#开尔文探针力显微镜
,
#开尔文探针力显微镜KPFM
,
#开尔文探针力显微镜探针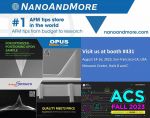 Opening hours today Wednesday August 16th 10:00 AM - 2:00 PM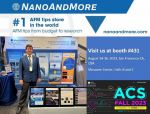 Don't forget to visit booth #431 and catch up on the latest
#AFMprobes
news with him.
Opening hours for the exhibition today Tuesday August 15th 2023 11:00 AM - 5:00 PM

Compensating for surface charging effects in order to observe the true piezoelectric response of ferroelectric films with Piezoresponse Force Microscopy (PFM) and our ElectriMulti75-G AFM probes.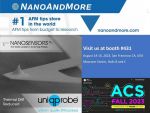 Learn more about the NANOSENSORS uniqprobe AFM probe series of soft AFM cantilevers with very low variation in force constants and low thermal drift and more at our booth.
Exhibit opening hours today Monday, August 14th: 11:00 AM - 5:00 PM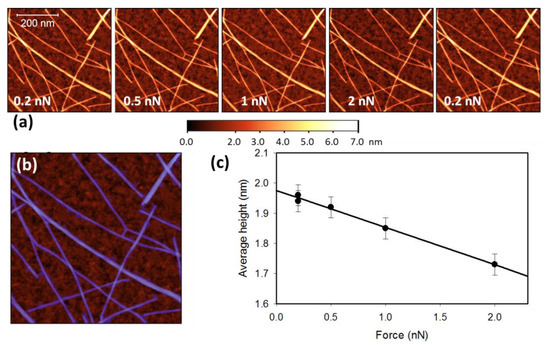 AFM height measurements can produce inaccurate results even with a properly calibrated scanner. Our 4-cantilever AFM probes HQ:XSC11/Al BS support this research on how to measure the diameter of single-wall carbon nanotubes (SWCNT) accurately by taking account of compression effects and roughness.

In the field of modern information storage, the physical properties could act as the storage "medium", such as electric polarization (dipole orientation) of ferroelectric materials, or spin polarization (magnetic vector) of magnetic materials. *
Multiferroic materials have great potential in non-volatile devices for low-power and ultra-high density information storage, owing to their unique characteristic of coexisting ferroelectric and ferromagnetic orders.

Phosphorylation of phase-separated p62 bodies by ULK1 activates a redox-independent stress response
Liquid–liquid phase-separated biomolecular condensates, liquid droplets play an important role in many biological processes, such as gene expression, protein translation, stress response, and protein degradation, by incorporating a variety of RNA and client proteins into their interior depending on the intracellular context. * Autophagy is involved in the degradation of several cytoplasmic liquid droplets, including
[…]
#AntioxidantStress
,
#Biology
,
#BiologyAFMProbes
,
#HighSpeedAFM
,
#HighSpeedAtomicForceMicroscopy
,
#HSAFM
,
#KEAP1
,
#LiquidLiquidPhaseSeparation
,
#MolecularBiology
,
#MolecularCharacteristics
,
#MolecularDynamics
,
#MolecularSystemsBiology
,
#NRF2
,
#NRF2NFE2L2
,
#P62
,
#P62SQSTM1
,
#PhaseSeparation
,
#ULK1
,
#UltraHighFrequencyAFMCantilevers
,
#UltraHighFrequencyAFMProbes
,
#UltraShortAFMCantilevers
,
#USC
,
#USCF12K015
,
#VideoRateAFM
,
#VideoRateAtomicForceMicroscopy
,
#高速AFM
,
#高速AFMカンチレバー
,
#高速AFMプローブ
,
#高速AFM探针
,
#高速原子力显微镜
, #高速原子力显微镜探针