There is considerable interest in van der Waals (vdW) materials as potential hosts for chiral skyrmionic spin textures. Of particular interest is the ferromagnetic, metallic compound Fe3GeTe2 (FGT), which has a comparatively high Curie temperature (150–220 K). Several recent studies have reported the observation of chiral Néel skyrmions in this compound, which is inconsistent with its presumed centrosymmetric structure.*
In the article "Magnetic Skyrmions in a Thickness Tunable 2D Ferromagnet from a Defect Driven Dzyaloshinskii–Moriya Interaction" Anirban Chakraborty, Abhay K. Srivastava, Ankit K. Sharma, Ajesh K. Gopi, Katayoon Mohseni, Arthur Ernst, Hakan Deniz, Binoy Krishna Hazra, Souvik Das, Paolo Sessi, Ilya Kostanovskiy, Tianping Ma, Holger L. Meyerheim and Stuart S. P. Parkin report the observation of Néel type skyrmions in single crystals of FGT via Lorentz transmission electron microscopy (LTEM).*
Since LTEM requires transmission of electrons through the sample thickness, the authors investigated the thicker lamella L2 using only magnetic force microscopy (MFM). *
For MFM measurements, the lamella was transferred on a prepatterned silicon substrate to be easily accessible by MFM tip. The measurements were performed in a vacuum and NANOSENSORS™ SuperSharpSilicon™ AFM probes for magnetic force microscopy (SSS-MFMR) were used for all measurements. *
In the article it is shown from detailed X-ray diffraction structure analysis that FGT lacks an inversion symmetry as a result of an asymmetric distribution of Fe vacancies. This vacancy-induced breaking of the inversion symmetry of this compound is a surprising and novel observation and is a prerequisite for a Dzyaloshinskii–Moriya vector exchange interaction which accounts for the chiral Néel skyrmion phase. This phenomenon is likely to be common to many 2D vdW materials and suggests a path to the preparation of many such acentric compounds. *
Furthermore, it is found that the skyrmion size in FGT is strongly dependent on its thickness: the skyrmion size increases from ≈100 to ≈750 nm as the thickness of the lamella is increased from ≈90 nm to ≈2 µm. This extreme size tunability is a feature common to many low symmetry ferro- and ferri-magnetic compounds. *
Please have a look at the
NANOSENSORS blog
for the full citation and a direct link to the full article.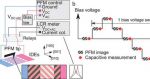 HfO2-based films are important materials used in broad range of electronic applications from high-performance transistors and memory cells, to thermoelectric and energy harvesting elements. * In the article "Impact of annealing on electric and elastic properties of 10-nm Hf0.5Zr0.5O2 films prepared on Si by sputtering" Leonid Bolotov, Shinji Migita, Ryouta Fujio, Manabu Ishimaru, Shogo Hatayama
[…]

Successful airborne transmission of coronaviruses through fluid microdroplets requires a virion structure that must withstand harsh natural conditions. * Because of the strict biosafety requirements for the study of human respiratory viruses, it is important to develop surrogate models to facilitate their investigation. * In the article "Monitoring SARS-CoV-2 Surrogate TGEV Individual Virions Structure Survival
[…]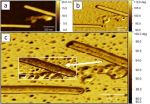 New nanotools blog post: Young Modulus and Yield Strength of 2D Materials with Potential for Lightweight Composites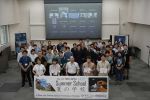 NanoAndMore Japan proudly sponsored this year's Bio-SPM Summer School at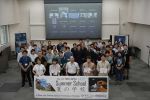 2022年8月22日~27日に金沢大学ナノ生命科学研究所(WPI-NanoLSI) において第
㈱NanoAndMoreジャパンも本活動を支援させていただきました。
最終日には開催期間中の研究成果から、4名の研究者に対し奨励賞が授与され、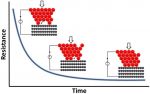 Study on contact aging and its effect on electrical resistance in Conductive AFM measurements with the help of our MikroMasch® HQ:NSC18/Pt AFM probes


Metrology Super Sharp (MSS): Heavy-Duty Carbon Tips for Very Narrow HAR Trenches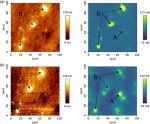 Our ElectriMulti75-G and ElectriTap300-G AFM probes perform measurements in KPFM mode to study corrosion at the buried interface of organic films and Al alloy.

Nanoscale Noncollinear Spin Textures in Thin Films of a D2d Heusler Compound
Magnetic nano-objects, namely antiskyrmions and Bloch skyrmions, have been found to coexist in single-crystalline lamellae formed from bulk crystals of inverse tetragonal Heusler compounds with D2d symmetry. * Skyrmions can be observed in real-space by various direct imaging techniques. * In the article "Nanoscale Noncollinear Spin Textures in Thin Films of a D2d Heusler Compound"
[…]






Happy birthday to Nobel Prize and Kavli Prize laureate Gerd Binnig, co-inventor of the Scanning Tunneling Microscope and the Atomic Force Microscope!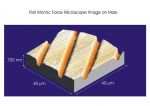 On this date 14 years ago, an atomic force microscope on NASA's Phoenix Mars Lander performed the first AFM measurement on Mars.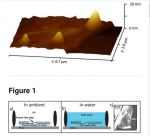 Small graphene sealed nanocavities have potential applications as pressure sensors. In this paper hydrogen nanobubbles are induced electrochemically at graphene-mica interfaces. MikroMasch HOPG ZYA is used as the graphene source and MikroMasch HQ:NSC36/Al BS AFM probes are used to study the bubbles.