Happy Thanksgiving to all our friends in the USA and Canada! Enjoy the time with family and friends and don't forget to visit us @NanoAndMore USA booth no. 311 @Materials_MRS MRS Fall 2022 after the holidays if you are planning to travel to Boston to participate in the conference. We're looking forward to seeing you
[…]

Photoinduced Charge Transfer and Trapping on Single Gold Metal Nanoparticles on TiO2
Numerous advances of societal significance, such as CO2 conversion to fuels, hydrogen production by water splitting, and new materials with self-cleaning and antifogging properties, are based on heterogeneous photocatalysis. * Strategies to increase charge separation in the photocatalyst include decorating the surface with metal nanoparticles (NPs). * The Schottky barrier at the metal–semiconductor interface and
[…]
#AdvancedTEC
,
#AFMProbes
,
#ATEC
,
#ATECEFM
,
#AtomicForceMicroscopy
,
#Characterization
,
#ChargeTransfer
,
#ConductiveAFMProbes
,
#Gold
,
#GoldNanoparticles
,
#HeterogeneousPhotocatalysis
,
#KelvinForceProbeMicroscopy
,
#KelvinProbeForceMicroscopyKPFM
,
#KPFM
,
#Light
,
#MaterialsResearch
,
#MaterialsScience
,
#MetalNanoparticles
,
#Nanoparticles
,
#Oxides
,
#PAKPFM
,
#PhotoactiveMaterials
,
#PhotoassistedKelvinProbeForceMicroscopy
,
#PhotoassistedKelvinProbeForceMicroscopyPAKPFM
,
#Photoelectrocatalysis
,
#SurfacePhotovoltageSPV
,
#TiO2
,
#TipViewAFMProbes
,
#TipViewAFMTips

Infrared nanospectroscopic imaging of DNA molecules on mica surface in Resonance Enhanced AFM-IR mode with our HQ:CSC38/Al BS and HQ:CSC38/Cr-Au ultrasoft silicon AFM cantilevers.



We 're celebrating the World Science Day for Peace and Development today. On every 10 November the World Science Day for Peace and Development aims to bring science and society closer together by pointing to possible solutions science, technology and innovation can offer for the global challenges that our society faces in this day and
[…]


Nano-piezoelectric materials such as 1D piezoelectric nanofibers, nanowires, and nanobelts have attracted a lot of research interest in recent years. * Because of their active property that can transform strain energy into electricity, 1D piezoelectric nano-materials can be building blocks for nano-generators, strain sensors, acoustic sensors, force sensors, biosensors, self-powered drug delivery systems, piezoelectric transistors
[…]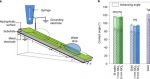 Study on the effects of spontaneous charging on the motion of sliding water droplets supported by our OPUS 160AC-NA AFM probes.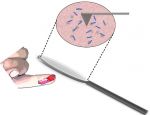 Our ContGB-G AFM probes help characterize the structure and interactions of the new promising antithrombotic molecule APAC (antiplatelet and anticoagulant heparin proteoglycan).

Male-female communication enhances release of extracellular vesicles leading to high fertility in Drosophila
The female reproductive tract (female-RT) must decipher the repertoire of molecular cues received from the male during copulation in order to activate and coordinate tract functionality necessary for high fertility. In Drosophila, this modulation is partially driven by spermathecal secretory cells (SSC). The SSC are a layer of cuboidal secretory glandular cells surrounding the spermatheca
[…]


High metastasis-associated in colon cancer 1 (MACC1) expression is associated with metastasis, tumor cell migration, and increased proliferation in colorectal cancer. Tumors with high MACC1 expression show a worse prognosis and higher invasion into neighboring structures. However, the mediation of the pro-migratory effects is still a matter of investigation.* In their study "MACC1-Induced Collective Migration
[…]

Today, October 9, 2022, is National
#NanotechnologyDay
in the US. The theme for this year's National Nanotechnology Day is nanotechnology's role in understanding and responding to climate change and improving the health of the Earth and its people. Climate change has necessitated the framing of government regulations and the development of green strategies for reducing
[…]

Happy
#NanotechnologyDay
! The date, 10/9, is a nod to the nanometer scale, where objects span only billionths of a meter (10⁻⁹ meters). We celebrate it with the nanotechnology community by featuring an article on AFM-Based Electrochemical Etching in today's blogpost. Nanomanufacturing involves scaled-up, reliable, and cost-effective manufacturing of nanoscale materials, structures, devices, and systems. It
[…]
#AFMProbes
,
#AFMTips
,
#AFMカンチレバー
,
#AFMプローブ
,
#AFM探针
,
#AtomicAndCloseToAtomicScaleManufacturingACSM
,
#AtomicForceMicroscopy
,
#AtomicForceMicroscopyAFMBasedElectrochemicalEtching
,
#AtomicScaleManufacturingACSM
,
#ConductiveAFMProbes
,
#ElectrochemicalMachining
,
#Etching
,
#Lithography
,
#NanoDay
,
#Nanomanufacturing
,
#Nanomaterials
,
#Nanoscale
,
#NanotecDay
,
#NanotechDay
,
#NanotechnologyDay
,
#NationalNanotechnologyDay
,
#PPPEFM
,
#ScanningProbeMicroscopy
,
#ScanningProbeMicroscopySPMBasedLithography

There is considerable interest in van der Waals (vdW) materials as potential hosts for chiral skyrmionic spin textures. Of particular interest is the ferromagnetic, metallic compound Fe3GeTe2 (FGT), which has a comparatively high Curie temperature (150–220 K). Several recent studies have reported the observation of chiral Néel skyrmions in this compound, which is inconsistent with its presumed centrosymmetric structure.*
In the article "Magnetic Skyrmions in a Thickness Tunable 2D Ferromagnet from a Defect Driven Dzyaloshinskii–Moriya Interaction" Anirban Chakraborty, Abhay K. Srivastava, Ankit K. Sharma, Ajesh K. Gopi, Katayoon Mohseni, Arthur Ernst, Hakan Deniz, Binoy Krishna Hazra, Souvik Das, Paolo Sessi, Ilya Kostanovskiy, Tianping Ma, Holger L. Meyerheim and Stuart S. P. Parkin report the observation of Néel type skyrmions in single crystals of FGT via Lorentz transmission electron microscopy (LTEM).*
Since LTEM requires transmission of electrons through the sample thickness, the authors investigated the thicker lamella L2 using only magnetic force microscopy (MFM). *
For MFM measurements, the lamella was transferred on a prepatterned silicon substrate to be easily accessible by MFM tip. The measurements were performed in a vacuum and NANOSENSORS™ SuperSharpSilicon™ AFM probes for magnetic force microscopy (SSS-MFMR) were used for all measurements. *
In the article it is shown from detailed X-ray diffraction structure analysis that FGT lacks an inversion symmetry as a result of an asymmetric distribution of Fe vacancies. This vacancy-induced breaking of the inversion symmetry of this compound is a surprising and novel observation and is a prerequisite for a Dzyaloshinskii–Moriya vector exchange interaction which accounts for the chiral Néel skyrmion phase. This phenomenon is likely to be common to many 2D vdW materials and suggests a path to the preparation of many such acentric compounds. *
Furthermore, it is found that the skyrmion size in FGT is strongly dependent on its thickness: the skyrmion size increases from ≈100 to ≈750 nm as the thickness of the lamella is increased from ≈90 nm to ≈2 µm. This extreme size tunability is a feature common to many low symmetry ferro- and ferri-magnetic compounds. *
Please have a look at the
NANOSENSORS blog
for the full citation and a direct link to the full article.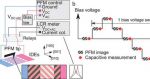 HfO2-based films are important materials used in broad range of electronic applications from high-performance transistors and memory cells, to thermoelectric and energy harvesting elements. * In the article "Impact of annealing on electric and elastic properties of 10-nm Hf0.5Zr0.5O2 films prepared on Si by sputtering" Leonid Bolotov, Shinji Migita, Ryouta Fujio, Manabu Ishimaru, Shogo Hatayama
[…]

Successful airborne transmission of coronaviruses through fluid microdroplets requires a virion structure that must withstand harsh natural conditions. * Because of the strict biosafety requirements for the study of human respiratory viruses, it is important to develop surrogate models to facilitate their investigation. * In the article "Monitoring SARS-CoV-2 Surrogate TGEV Individual Virions Structure Survival
[…]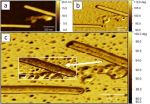 New nanotools blog post: Young Modulus and Yield Strength of 2D Materials with Potential for Lightweight Composites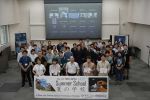 NanoAndMore Japan proudly sponsored this year's Bio-SPM Summer School at